Journey into the Unknown and Back Again (e-book Novel)
Joshua Shapiro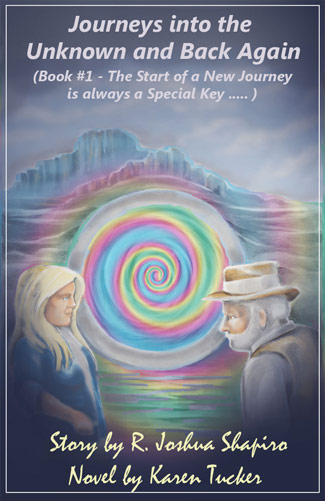 This version is the PDF e-book edition
and is 200+ pages with various illustrations
Discounted Price: $6.95
(price is good through November 24th, 2016, then it
goes to the normal price of $8.95 - save $2 now!)

Thank you for your interest in of our book entitled, "Journeys into the Unknown & Back Again, Book #1, Part I: The Start of a Journey is always a Special Key".  This is an amazing original story developed by Joshua Shapiro, with the help of our novelist Karen Tucker and our illustrator is Chris Rhyason. 
What if you had the opportunity, you were invited to visit the inner dimension or the "Other Side" as it is referred to? A place where one could receive the answers to all the questions we have ever had in our lives?  So begins a new journey, as we take you into a so-called world where a special spiritual and teacher is being invited to make such a journey however, in this case he returns with total proof of what lies ahead for every human being.

 Examples of Illustrations in the Book
This novel is actually part of a trilogy of books (stories) we are going to being sharing with all of you. This is just Part I (of two parts) of book #1, where we meet the main characters of the book, Joseph and Katherine Schwartz, who travel the world exploring various mysteries including the:
Crystal Skulls, UFOs, Ancient Civilizations and
anything and everything linked to the paranormal
-- and then offer the best information they have collected via their public talks, books and websites. During a recent tour through the western part of the U.S., a series of strange events begins to take place, as they are guided eventually to travel to Peru (where the book starts).  But en-route to get there, Joseph and Katherine meet:
Mediums, Indigenous Elders, a contact with a Sasquatch Person and
a friend from the Lemuria City of Telos under Mt. Shasta.
-- Also they share with the people they meet along the way their personal crystal skulls and unbelievably, two new crystal skulls are gifted to them. As it is said, "all is a day's work", yes?  As you can see Joseph and Katherine do not lead a so-called normal life but a very exciting one living on the edge and being open to be spontaneous as well as guided by 'Spirit'.

While we have take creative liberties in our story, many of the events and activities depicted are here based on real-life situations happening in our world today.  The basic outline of the triology is as follows:
Book #1 - is when Joseph is invited to go to the "Otherside" and eventually finds himself in front of an energy vortex or dimensional portal. In Book #2, slated for 2017, he goes through this door and is given by spirit a magical way that everything that happens to him on the "Otherside", which is what this book covers, is fully recorded that when he comes out, in Book #3 he shares this proof with the world, that includes answers to every question humanity has ever wondered about linked to our origins, what is the infinite universe and who-what-where is our Creator, and this is a catalyst to awaken humanity and bring peace to our world.
So if you have ever wondered where do we go when our time here on
the Earth is done and what is it like on the so-called "Otherside" (??),  this is
the book for you and you won't be disappointed - get your copy now - see below
So this edition of Book #1, Part I, takes our readers through their west coast tour till they get home in Seattle, all the clues and synchronicities that Joseph and Katherine experiences which points them to making a trip to Peru - and then an unexpected visit to Australia.  Book #1, Part II, out next year, explains how they eventually get to Peru and Joseph walks through the dimensional door. But wait till you hear which crystal skulls are gifted and all the special information they collect linked to the paranormal and where our world is headed!

Two Options: Paypal or by Check
Directly below you will find the "Buy Now" button that links to Paypal to allow you to order your copy of our e-book edition. When paying for our e-book through Paypal, either you already have a Paypal account or you can still use this service with any credit card even if you are not a Paypal member. As soon as you have order your e-book, we will contact you shortly thereafter via email and attached to this email will be your e-book.
To Order Your Copy
(PDF e-book)

Journeys into the Unknown
and Back Again, Book #1, Part I

with Karen Tucker and Joshua Shapiro,
and artwork by Chris Rhyason

$6.95 + 60 cents processing
(total of $7.55, through Paypal, click on the button below)

(by clicking on the "Buy Now" above, you will
may a payment through Paypal, either
through your Paypal account or by a credit card
within the Paypal system - it will show
Crystal Skull Explorers as the company
who charged you for this e-book, enjoy!!)
What Else to Know About this E-book?
Details About Receiving Your Copy of the E-book Edition: Our e-book comes in an Adobe PDF Format, so to read our e-book you must have the Adobe Acrobat Reader which is version 7 or higher. Most computers come with this program but if you don't have it go to the Adobe website and its free to download it. Also you will see a thank you page after you order the e-book, and then shortly after we get your order, we will email this e-book as an attachment to your email. The size of this PDF file is about 1.6 meg in size.
How to Order Your Copy of the E-book Edition by check or money order: If you do not use paypal or prefer not to use this service, you can also send us by mail a personal check or money order.  Make this out for $6.95 (U.S. dollars) to Richard Shapiro and mail it to us at:
Joshua Shapiro and Katrina Head
23415 61st. Ave. S.
Apt. U101
Kent, WA 98032
USA
If you have any question about the e-book or how to get your copy feel free to contact via email at:
crystalskullexplorers@gmail.com

Thank you for joining us on this new adventure
-- in peace and light always,
Joshua Shapiro & Katrina Head
your Crystal Skull Explorers

PS: - if you like our story and would offer your feedback, feel free to email us - thank you