Journeys into the Unknown Novel – Book 1
Joshua Shapiro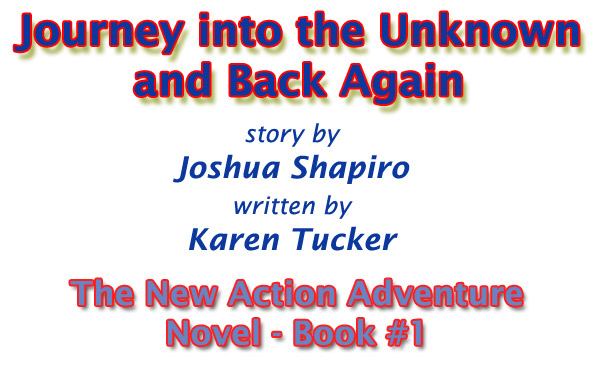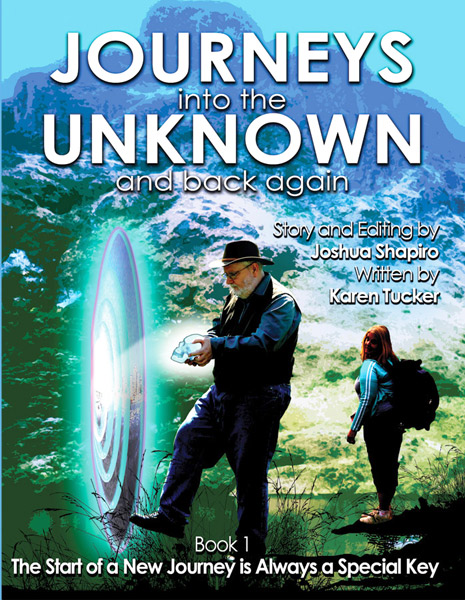 (First Edition, Printed or PDF format, 320 pages, 10+ illustrations,
printed size is 8-1/2" X 11" including a detailed resource directory
Publisher: Crystal Skull Explorers; Illustrators Chris Rhyason and
Susan McAliley with Susan Tiemann, cover design)
Printed Version will be Available early December
with the e-book version (pdf), soon thereafter
On behalf of our team at Crystal Skull Explorers, and the special individuals who have decided to help us to be able to share this powerful new and exciting story with you, we thank you for your interest in the official release of our first action-adventure novel.  Journeys into the Unknown and Back Again, introduces you to Crystal Skull Explorers and paranormal researchers, teachers and lightworkers, Joseph and Katherine Schwartz, who unknown to themselves are being invited by beings in the higher dimensions to become key messengers to share higher spiritual truth and knowledge that has a great potential to set humanity free.
We are delighted to be able to share with you this first book, in this trilogy where you not only get to meet and know who Joseph and Katherine are as we join them on a special journey but through their travels we learn about some of the greatest mysteries and wonders that exist in our world.  This novel begins in the late part of 2018, during their American Southwest Lecture Tour.  However, all of a sudden a series of unexpected events and experience begin to take place where the Schwartzes must travel to Peru by mid-December, as Joseph is being invited to visit the "other-side".

What do we mean by the "other-side"?  Many people have now had a personal experience with contact with a spiritual realm of existence, where our soul goes, the true essence of our being, when its time to pass on in this life.  We have people with what is termed a "Near Death Experience" for example, where they are clinically dead for a time and when they are revived discuss being into another world.  We have special individuals who act as spiritual mediums or channels and have beings from other dimensions, including at time the spirit of a person speak through them that we can verify once lived.  We have people who are opening up to their spiritual gifts and can sense there is a presence around them, a living intelligence talking with them but they can see or touch these beings.  We have even heard there are certain radio frequencies which have been banned because there are people speaking on them that are not coming from any radio station broadcast.

The challenge has always been, to prove that these other realities truly exist backed up with some tangible proof, but all we ever have it seems, is the telling of a person's experience which can never be verified.  So in our story, these intelligent love beings on the other side have figured out a way, a system of how they can bring someone over to their side and have fully recorded all that person's experiences over there in such a way that when this person returns all their experiences can be shared. So of course, this person to be invited over is "Joseph Schwartz"!

Within Book #1 of this series, the Schwartzes meet all kinds of crystal skulls, sightings of UFOs, even a Sasquatch shows up. We hear about the people of Telos in the underground city of Mt. Shasta, gifts are given to them apported into our physical world by spirit, and even a short trip to the down under in Australia.  With all these events, synchroncities and activities to prepare Joseph for his stepping through the dimensional door in the high Andes mountains of Peru -- which of course we must wait to book #2 to find out what happens then.

This is a story like no other, which eventually will bring forth to the answer to many questions which we have all had like, Where did Humanity Originate From?  What is our true purpose and life and why are we here on the Earth.  And also, what is our relationship to the universe and what is our inner essence all about.
This is the first novel ever shared by well known real-life crystal skull explorer Joshua Shapiro.  The idea for this story came to him back in 2014 and eventually he connected with spiritual novelist Karen Tucker of England, to take the story he was watching in his head and put pen to paper to bring it to life.  This is perhaps the most important series of books Joshua and Karen have ever personally been involved with.  For a special on-line membership Joshua offered via this crystal skull website, a lucky group of people got to read this story, with a new chapter every month.  At times this writer team didn't know which direct this story would go but when it was time to do the next chapters, the ideas to do so flowed in.  We definitely believe that help was being received during the writing period from extended family in spirit.

(To receive an email to be notified when the Printed or E-book version is ready
please fill in the on-line form below and click submit)

Crystal Skull Researcher, Joseph Schwartz we see here studying one of the new crystal skulls he has uncovered
during their world travels, wondering
what are the crystal skulls all about?
(drawing done by Chris Rhayson)


During a visit to Mt. Rainier near Seattle, to initiated their new human- sized Rose Quartz skull to bask in the energies of this sacred mountain, Joseph and Katherine lead a spiritual group in a meditation with visitors appearing over their heads!!
(drawing down by Susan McAliley)

Would like to take a Sneak Peek
at this Novel Now?
Below is our Sample Version
(click on the link below to view PDF in browser or
click save link to, to save PDF file on your computer)
Download Preview E-book Here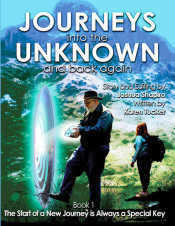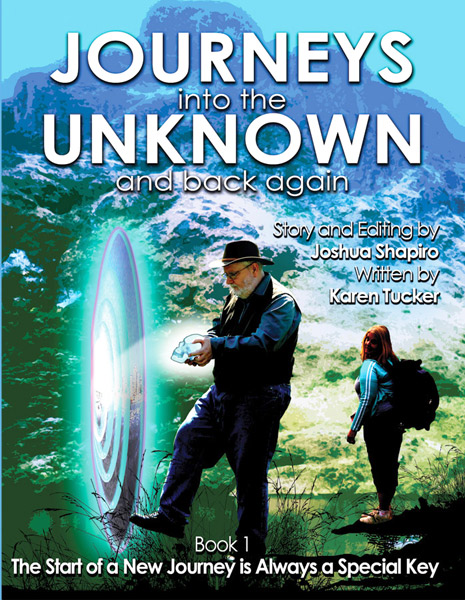 Never before has the writing team of Karen Tucker and Joshua Shapiro been involved in such a book that will be revealing key and secret inner wisdom and knowledge about our spiritual nature as will be discussed throughout this trilogy of books.


The Blue Crystal Skull that Joshua Shapiro has written about before linked to Peru (in his previous book) makes a surprise guest appearance - what is this Blue Crystal Skull all about and why is it surfacing now?


For those interested in the paranormal, what would YOU give for a chance to travel to the so-called "other-side"?? Within this story discover how Joseph Schwartz, gets this special opportunity to answer all of humanities long sought after questions about our origins and our relationship to the cosmos and Creator.


View the compelling illustrations done by Rhyason and McAliley as well as gain access to our extensive resource directory that provides our readers various resources available and that we recommended link to the numerous subjects that we touch upon in this book from crystal skulls to UFOs to the Hollow Earth, Sasquatch, Shamanism, Crop Circles, Telos, Mediumship and much much more. No other novel provides such a list of resources.


Could such a journey done by a dedicated individual following his ouwn spiritual path become the key catalyst for bringing forth World Peace?  How would our world change if absolute proof was provided dealing with our true spiritual nature is as light immortal energy beings was revealed, and that we are all temporarily stationed here on the Earth? How would this knowledge change our world?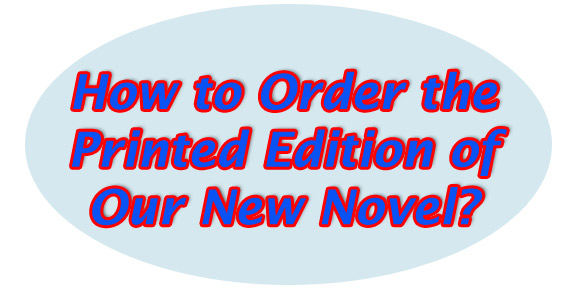 Price: $24.95

Coupon Code:  ________
320 Pages
10+ Illustrations
Color Cover, Perfect bound
Publisher: Crystal Skull Explorers

(Note: Until our Printed Edition is Completed and
Available, to give you an idea of the price of this new
novel we have included an approximate price
below for the book and what it will cost with shipping.
As soon as as our new novel becomes available you will be
able to get your copy using Paypal or by check or money order.
Ask us about the coupon code to receive 10% off the price)
Estimated Delivery Times for the Book
United States (Continental & Outside Continental):  5 business day (Std.)
Canada:  9 business day (Std.) / 2 business day (Priority)
Mexico/Central & South America:  4 weeks (Exp.) / 4 bus. days (Priority)
Europe (Incl. - Russia,Iceland,Greenland): 3 weeks (Exp.) / 3 bus. days (Priority)
Australia and Japan: 2 weeks (Expedited) / 3 business days (Priority)
Israel:  17 business days (Expedited) / 4 business days (Priority)
All of Asia and Africa, New Zeland:  3 weeks (Exp.) / 4-6 bus. days (Priority)
Total Price with
Shipping to the
United States

Continental US
$30.55
($5.60 for
standard shipping)


[ Paypal Button ]

AK, HI, Puerto Rico
$32.55
($7.60 for
standard shipping)


[ Paypal Button ]

Total Price with
Shipping to
Canada



$32.95


( $8.00 for
standard shipping) 


[ Paypal Button ]


$46.94
( $21.99 for
priority shipping)


[ Paypal Button ]

Total Price with
Shipping to
Mexico, Cent. &
South America

$43.13
( $18.18 for
expedited shipping)


[ Paypal Button ]


$59.13
( $34.18 for
priority shipping)


[ Paypal Button ]

Total Price with
Shipping to
Europe + Russia,
Iceland, Greenland

$32.95
($8.00 for
expedited shipping)


[ Paypal Button ]

$39.35
($14.40 for
priority shipping)



[ Paypal Button ]

Total Price with
Shipping to
Australia,

*

Israel,
and Japan

$38.55
( $13.60 for
expedited shipping)


[ Paypal Button ]

$46.94
( $26.80 for
priority shipping,
*Israel not included)


[ Paypal Button ]

Total Price with
Shipping to
Asia, Middle East,
Africa, New Zealand



$43.13


( $18.18 for
expedited shipping)


[ Paypal Button ]

$70.95


( $46.00 for
priority shipping


*

including Israel)

[ Paypal Button ]
What to Know About the E-Book Edition

Details About Receiving Your Copy of the E-book Edition: Our e-book comes in an Adobe PDF Format, so to read our e-book you must have the Adobe Acrobat Reader which is version 7 or higher. We anticipate shortly after the printed version of our novel is out, we will release this e-book version.  We also plan to come out with a Kindle version as well.  When our e-book is ready you will be able to order our book below. After your order is completed, we will contact you by email with how to receive your e-book (either as an attachment to that email or a link where to receive it). Adobe Acrobat Reader is a free program you can receive from Adobe (although there are many companies that offer such readers for free for the PDF format which is a universal format to make e-books).
​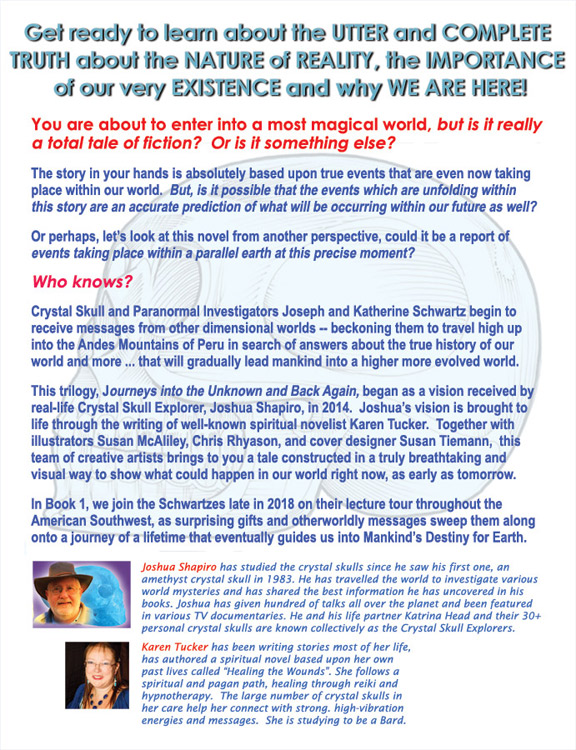 Here is the back Cover of our Book that offers more details

Below you will find the "Buy Now" button that links to Paypal to allow you to order your early copy of our e-book edition. When paying for our e-book through Paypal, either you already have a Paypal account or you can pay with a credit card even if you do not have a Paypal account.

​
To Order Your Copy
of our New Novel
(the PDF e-book edition)

 

Journeys into the
Unknown & Back Again

 

$9.95
(we will accept payment via
paypal, a paypal buy now
button will appear below
when the e-book is ready)

 

[ Paypal Button ]



Please Note: - if you prefer not to use paypal to pay for our novel (this is the only way we have to accept a credit card payment), we are able to accept a payment by check, money order (we will provide a mailing address to send your payment to) or we are working to allow this book to be purchased by bitcoins.  When the versions of our novel is ready we will share more details how to make this alternative payment.
Thank you for your interest in our new novel series. Stay tuned because we expect our second novel, "Crystal Skull Chronicles" to be released in 2018 as well as Book #2 of -- Journeys into the Unknown and Again".  We are also considering to setup a new on-line membership for this novel in 2018, where you will be able to read the chapters of Book #2 before the completed book is released along with access to the audio interview and transcript we did with various spiritual mediums and channels and people with an NDE experience.

Peace and Light always
Joshua & Katrina
your Crystal Skull Explorers
email: crystalskullexplorers@gmail.com
telephone: 1-253-236-2953
skype: joshaushapiro17
twitter: @csexplorer