Journeys of the Crystal Skull Explorers: Travel Log #2: The Blue Skull in Peru
Joshua Shapiro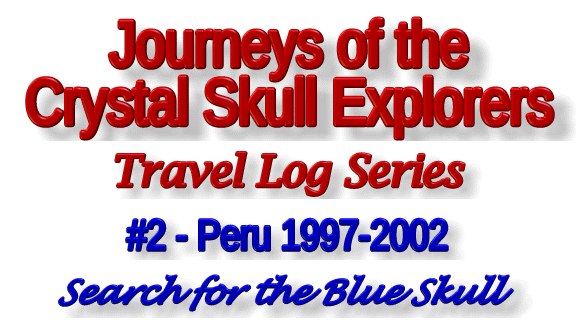 Enjoy our 5 Minute+ video
giving you an overview of this book
(You have the choice to order our e-book version
{PDF Adobe Format} or the Printed Edition
published through Global Communications!!)

(First Edition, PDF format, 258 pages with 30-40 photos & illustrations,
Printed Edition is 280 pages, 8-1/2" X 11")
Thank you for your interest in our second Travel Log book, dealing with Joshua's three journeys to Peru from 1997-2002 in which he was led by "Spirit" to discover or make contact with what he calls "The Blue Skull".  In the vision which guides him to Peru, this crystal skull (if it is made of quartz crystal) appeared as a transparent sky-blue color and was comprised of two pieces, with a separate jaw bone.
This webpage describes the first editions of this book which were released in two formats including a PDF protected format that has been available since December 29th, 2012 and the printed edition that came out in March (2013).  Through our publisher Global Communications there is also a Kindle version but we believe the format of our version of the e-book as a PDF is easier to read.  Before you decide which of these two editions to purchase, check out the ordering process first (as the postage to send the printed book to countries outside North America is a bit expensive) that is shown below.


Photo above, Joshua preparing to travel to the
Laguna Negra to search for the Blue Skull, high
up in the mountains of northern Peru ...

Photo to the left, the location in Peru, the mountain
and the sacred lagoon which Joshua was guided
to explore to find the "Blue Skull"


The Laguna Negra with the Mountain
Peak behind, do you see the skull face that
appears upon the mountain?
Never before has Joshua offered the complete sharing of his journals from his 3 journeys to Peru (Spirit requested at this time, that "HE MUST!!"

The Blue Crystal Skull that is discussed within this book could be centuries upon centuries old. It provided information to Joshua that it may have originated in Lemuria and has a special purpose to assist humanity in the near future.

Due to your support of the Crystal Skull Explorer's work in the world to share key information about the crystal skulls ( if you received our private invitation, you are being invited First) to receive one of the very first copies of this book to be released!

Joshua was requested by his "spirit guides" to write a journal report of each day during the three journeys he took to Peru (the northern part), in 1997, 1999 and 2002. You have the chance to be right there with Joshua as he travels with various companions, in each of these trips, to uncover The Blue Skull and what happened to them as they traveled throughout Peru.

Bonus sections of this book includes several other reports of some amazing new research done by Joshua and Katrina in the paranormal, including Joshua's contact with German Composer Pachelbel; Table Tipping and linking with John Adams near Boston; and Apportations of Spirit linked with the crystal skulls. Also, Joshua has included some special photographs from Peru taken on various travels there of UFO activity via clouds and lights in the sky over Lake Titicaca.
Here is Joshua at Machu Picchu - although this
is not the area where he saw the vision of the
Blue Skull, he has visited Peru a number of times
since 1989, each time giving him new clues ...


Joshua Meditation at a power stone
in Machu Picchu with the crystal skulls


Price: $24.95
280 Pages
30-40 Illustrations/Photos
Color Cover, Perfect bound
Publisher: Global Communications
(Note: Unfortunately, the U.S. Post Office has greatly
increased the cost to ship a package outside of the country
at the beginning of 2016 which has caused us to similarly
have to increase the price of postage and handling. There is
nothing that we can do as it is out of our hands if you are
curious why there is such a big difference
in the price of international shipping.)
Total Price including
Shipping to the
United States

$33.95

(Includes $9.00 for
postage & handling)

Total Price including
Shipping to
Canada

$43.95

(Includes $19.00 for
postage & handling)

Total Price including
Shipping to
Mexico

$48.95

(Includes $24.00 for
postage & handling)

Total Price including
Shipping to All
Other Countries

$53.70

(Includes $28.75 for
postage & handling)
What to Know About the E-Book Edition
Details About Receiving Your Copy of the E-book Edition:  If you would like to be one of the first to receive what we believe will become one of the classic historical and adventure laden books that has ever been written linked to the crystal skulls you can order it now! Our e-book comes in an Adobe PDF Format, so to read our e-book you must have the Adobe Acrobat Reader which is version 7 or higher. Also you will see a thank you page after you order the e-book, and we will email this e-book as an attachment to an email we will send you after your order is confirmed. Adobe Acrobat Reader is a free program you can receive from Adobe (although there are many companies that offer such readers for free for the PDF format which is a universal format to make e-books).

Here is Joshua with a photo of the "Lord of Sipan"
who was a Moche ruler about 200 AD - he was a
guiding spirit that came to Joshua to help him with
his search for the Blue Skull in Peru and had this
skull in his possession during the time of his rule!


Is it possible that there a crystal skulls in Peru?
During a tour in 2009, Joshua was shown this skull
purportedly from the Chavin ancient civilization.
Since 2009, what are called Andean Crystal Skulls
are surfacing and some are made from quartz.
After your order of the e-book edition is completed (we use Paypal), we will send you an email with a link of how to download your copy of our e-book and explain how easy it is to activate your e-book on your computer.  We use the email address associated with your Paypal account to help in the activation of your e-book. The size of this PDF file is about 4 meg in size.
Below you will find the "Buy Now" button that links to Paypal to allow you to order your early copy of our e-book edition.  When paying for our e-book through Paypal, either you already have a Paypal account or you can pay with a credit card even if you do not have a Paypal account.  As soon as you have order your e-book, we will contact you shortly thereafter via email how to get your copy and set it up.
To Order Your Copy
(PDF e-book)

Crystal Skull Explorers:
Travel Log #2 -
Peru 1997-2002
Search for the Blue Skull

$9.95
(through Paypal, click on the button below)

(by clicking on the "Buy Now" above, you will
may a payment through Paypal, either
through your Paypal account or by a credit card
within the Paypal system - it will show
Crystal Skull Explorers as the company
who charged you for this e-book, enjoy!!)
Thank you for your interest in our new series of books.  Stay tuned because we expecting to write several more as we move into 2016 and beyond including the new novels we are offering via our new CSE Special Membership (see the Menu above).
Joshua & Katrina
your Crystal Skull Explorers

email: crystalskullexplorers@gmail.com
telephone:  1-312-473-2790
skype: joshaushapiro17
twitter: @csexplorer