The Crystal Kids
Joshua Shapiro
The Crystal Kids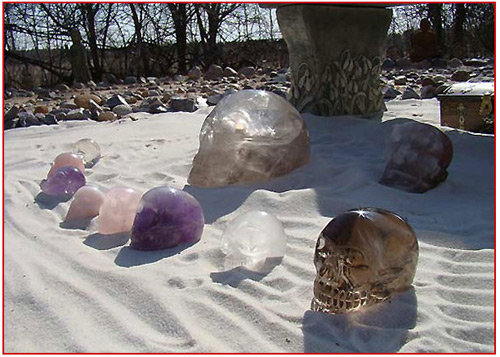 On this page we share with our visitors the special crystal skulls that have
chosen us as the guardians. Below is a photo and short description of each
of what we have called our "Crystal Kids". Each has its own personally and a
living consciousness connected with them as well as a specific name. Enjoy!!
| | |
| --- | --- |
| | "Portal de Luz" (Portal of Light) weights 10 lbs (4.5 kg) and is the largest crystal head in our family. "He" is made of light grey smoky quartz crystal which was mined and carved in Brazil ... read more> |
|   | "Geronimo Golden Eagle-Eye" is just under 2 lbs., almost clear dark smoky (cola smoky) quartz crystal skull, that was a gifted to Joshua from a close friend in Holland in 2004. At that time, Joshua had just one crystal skull, "Portal de Luz", so "Geronimo" became his second skull... read more> |
|   | "A Rose Quartz that is about 1 lb rose quartz skull and was made again by the same carver in Brazil Leandro. "She" was a gifted in 2007 to Joshua while in Holland and possess a great love. Katrina felt a strong connection when she first met this crystal skull ... read more> |
|   | "Ta'chu'la" is a skull made out of clear obsidian with a piece of cranberry obsidian that lies in the back of the head. "Ta'chu'la" was retrieved from a construction project and dig in Mongolia, China where they were building a dam. As they were digging into the ground, they discovered "Ta'chu'la"... read more> |
|   | "Anton" is a small clear quartz skull that was carved in Brazil which is less than 1 lb. Katrina received this skull when we ordered skulls for all the passengers of our UFO – Crystal Skull Journey to Peru in November of 2009, Katrina's first taste of Peru.... read more> |
|   | "Atahualpa" is a 9-10 ounce frosty clear quartz skull that was made by a carver in Brazil around September of 2009. "He" traveled with "Anton", another one of the crystal skulls we received for our group going to Peru, later that year..... read more> |
|   | This amethyst crystal skull is slightly over 2 lbs.  Joshua acquired this skull from a friend in Chicago, Steve Rosely, who sells crystal skulls and many gemstones in his store on the North Side of Chicago while he was attending a public conference near Chicago which featured also the Mitchell-Hedges Crystal Skull...... read more> |
|   | The "King" (The One who Points the way,his masculine side-name) or "Laialani" (her feminine side-name) is what we called our "Star Being" skull which is less then 1 lb., made from amethyst quartz.  Joshua has tried to discover who the Chinese carver is, but this carver does not wish to reveal his identity.......  read more> |
|   | The "Guardian" is a small pink quartz crystal skull which weights less than 1 lb.  This is the first crystal skull that Katrina received which was gifted to her by a friend during Christmas, 2008.  Do not let the size fool you because it is an amazing tool. ...... read more> |
|   | Rosalita" is a 13 lbs. rose quartz, of two pieces as the lower jaw is separate from the top part. She was a gift to us from Skillus, one of the most well known companies in China for carver crystal skulls and one of their master carvers created "her". She came to us at the end of 2011 just as were prepared to do a coast to coast trip within the U.S....... read more> |
|   | This lapus lazuli crystal skull, 6 lbs. was a gift from a member of our free on-line crystal skull newsletter which we call, "Unfolding of the Crystal Skulls". Wendy from the east coast, also bought a copy of our "Blue Skull" book and when she read a vision Joshua had when he was in Peru looking for a "Blue Skull", she felt this one had to come to us .... read more> |